Installation drawing of drain mode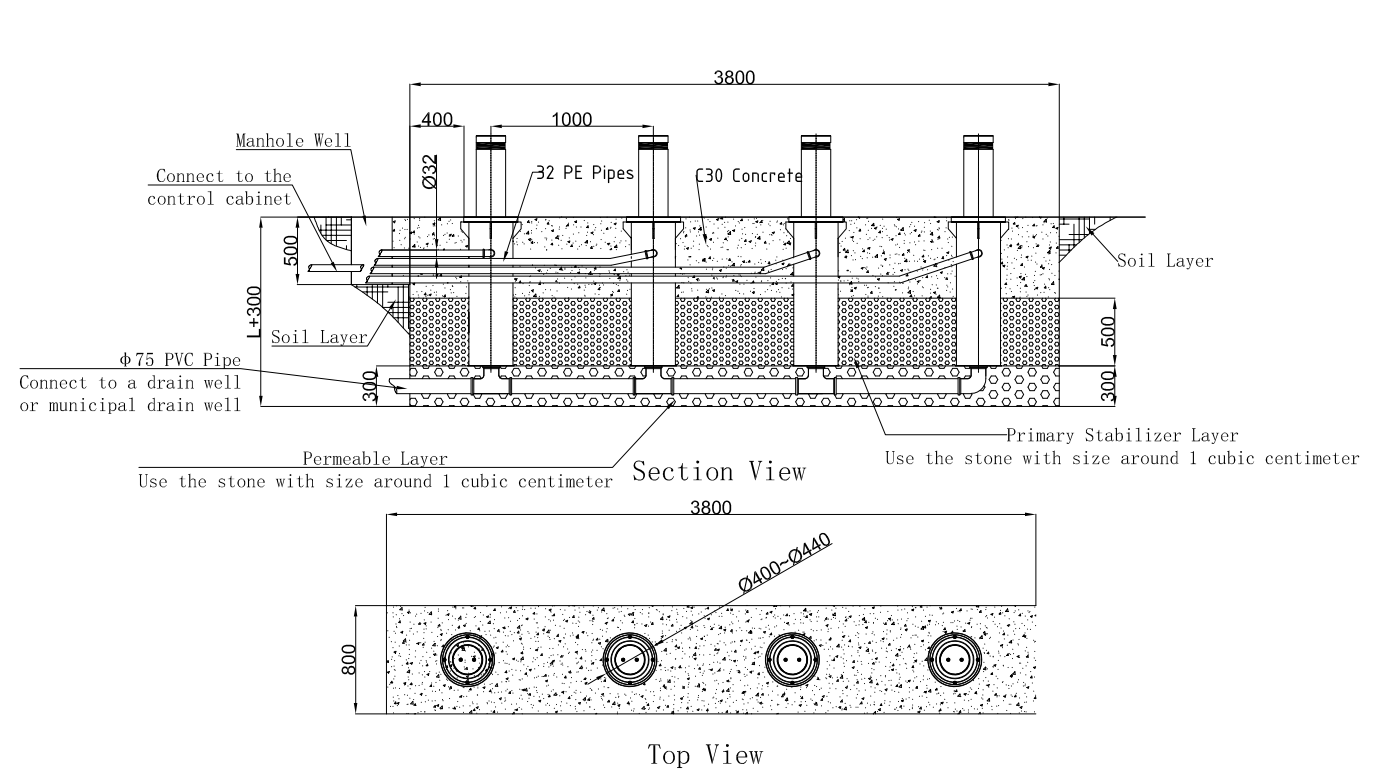 Installation drawing of water seepage mode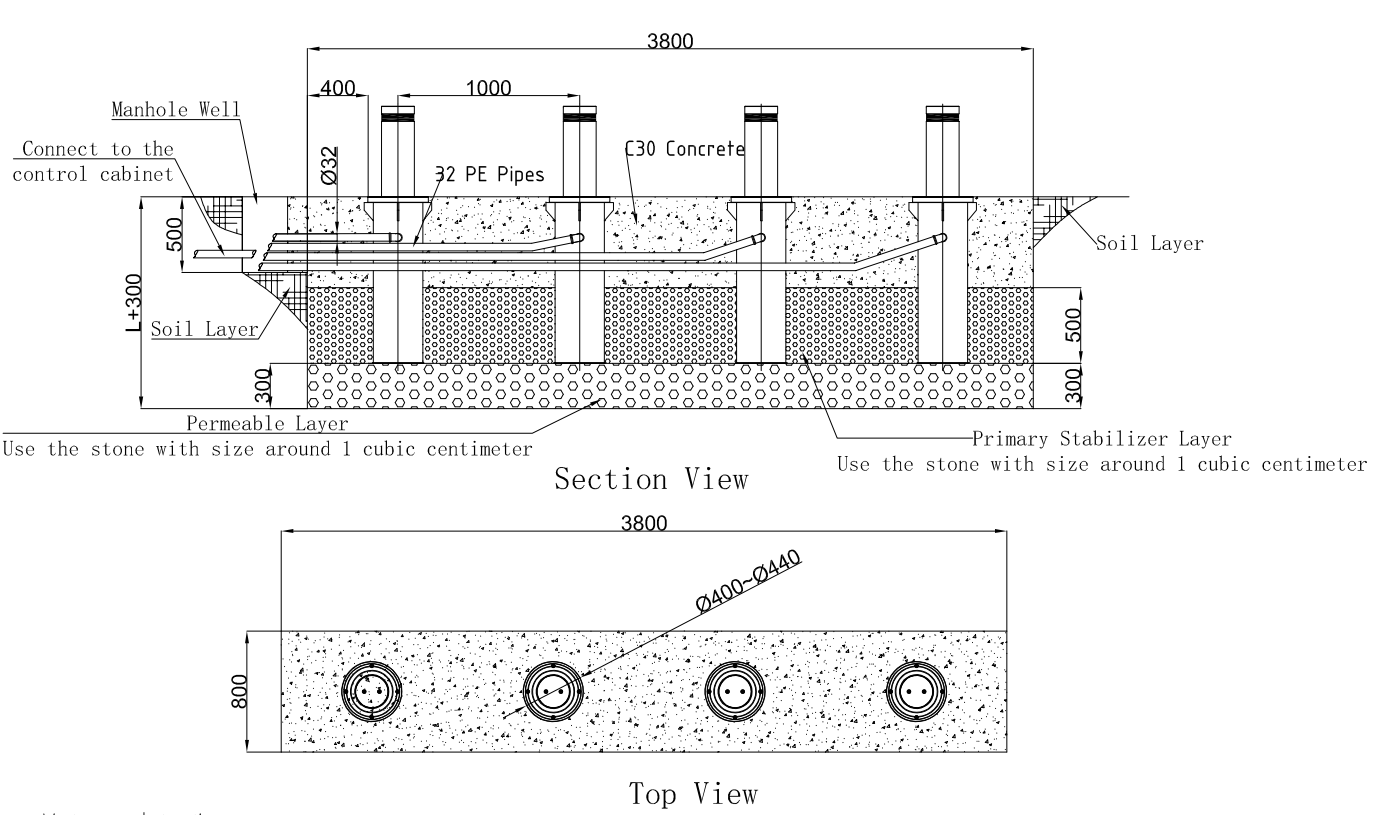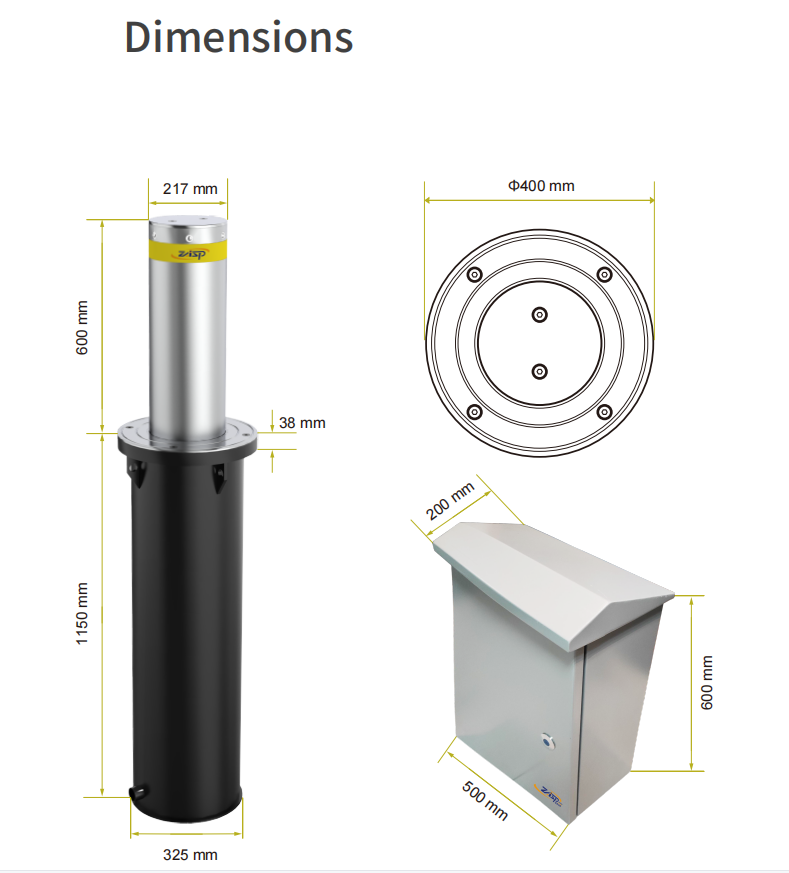 Hydraulic Automatic Bollard
Hydraulic Automatic Rising Bollard HA101-600 is automatic barrier system for to control traffic. Bollards integrated hydraulic ram inside, compare to traditional rising bollard with hydraulic power unit, have easy installation, save budget, after-sales easy maintenance several advantages, connect with control system and main power could work then.
HA101-600 automatic bollard cylinder material is 304 stainless steel , assure corrosion and rust resistance. Cooperated with SGS company, automatic bollard passed series of performance tests to guarantee bollard stable work ability, including continues 5000 lifting test, IP68 water proof and dust proof test, temperature test etc.. According to different types, equipment lifting time could range from 3 until 5 seconds. With emergency release system, power outage or other emergencies, can be artificially lower, release vehicles. If you have any question on hydraulic automatic bollard, we will give you the professional answers. Come and contact us!
Specification
● Brand Name: ZASP
● Model Number: HA101
● Certification: CE, IP 68, SGS
● Place of Origin: HeBei, China
● Supply Ability: 2000 pcs per month
● Delivery Time: 5-15 days
● Packaging Details: Wooden cases
● Dimension: φ400×1150mm
● Bollard diameter: 217±1mm,customized for 271mm diameter
● Bollard thickness: 6±1mm
● Height above ground: 600mm, customized for 700-800-900-1000mm height
● Rising time: 3.8s
● LED light: Yes
● Protection level: IP68
● Working temperature: -40℃ ~ +70℃
● Material: 304 stainless steel, optional of 316 stainless steel
● Color: customized
Advantages
Hydraulic automatic bollards are traffic control devices that can be used to regulate vehicle access to certain areas. They are typically used in parking lots, commercial and residential driveways, and other areas where it is necessary to restrict access to certain types of vehicles. Some advantages of using hydraulic automatic bollards include:
1. Ease of use: Hydraulic automatic bollards are easy to operate and require minimal training to use.
2. Speed: Hydraulic automatic bollards can be raised or lowered quickly, making them ideal for use in areas where fast access control is necessary.
3. Reliability: Hydraulic systems are known for their reliability and durability, and hydraulic automatic bollards are no exception. They can withstand heavy use and harsh weather conditions, making them a reliable choice for long-term use.
4. Security: Hydraulic automatic bollards can be used to secure an area against unauthorized vehicle access, helping to protect people and property from potential threats.
5. Flexibility: Hydraulic automatic bollards can be configured to allow access to authorized vehicles only, making them a flexible and customizable option for controlling access in various settings.
Application
Automatic rising bollard is suitable for high-frequency, high-security vehicle access places. Applied to the district, pedestrian street, parks, scenic areas, schools, fire exits, squares, car parks and other areas. Our products have a wide range of applications, if you want to know more, welcome to click here! Case Studies
We are your most trusted hydraulic automatic bollard manufacturer!
Beijing ZhuoAoShiPeng Technology Co., Ltd was established in 2009, which is professional manufacturer of Hostile Vehicle Mitigation roadway safety barrier equipment, the R&D and the operation office is situated in Fengtai District of Beijing. We focus on producing high quality Automatic Bollards! You can put forward specific requirements, we will do our best to meet! Warmly welcome new and old customers to visit and patronize! Come and contact us!